Dear Users,
In order to attract capable and well-resourced corporate and individuals to join our global marketing channel partner network, Huobi Global is proud to extend the " 【Super Rebate】Enjoy 40% Referral Now!" program as part of a major upgrade to our Super Rebate Program. Details are as follows:
Application Period (1st Phase): February 4 -July 1, 2020 (GMT+8)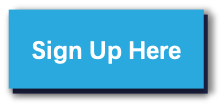 Qualification Criteria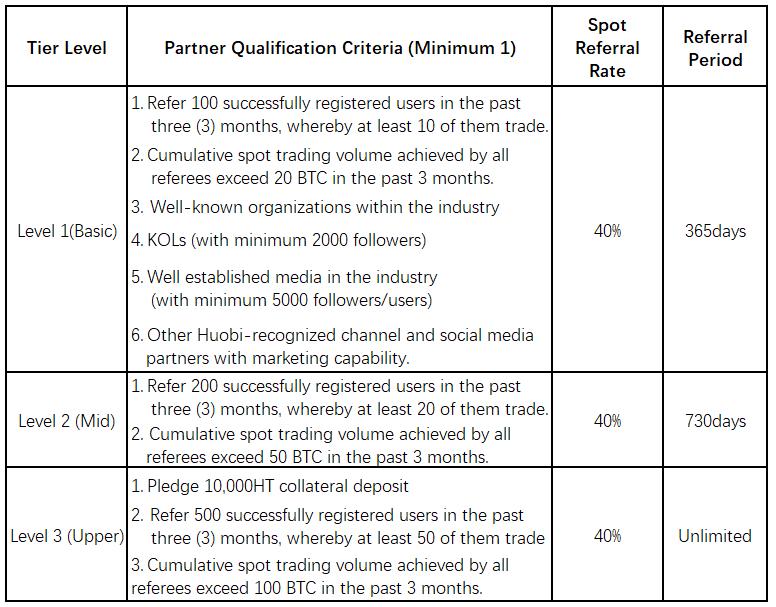 Referral Rate & Period: Marketing channel partners will need to fulfill the above-mentioned criteria to enjoy 40% referral fee rebates off Huobi trades. Partners can enjoy referral fee rebates for 1 year, 2 years, and unlimited time respectively based on their qualification level (see above), commencing from the referees registration sign-up date. Referral partners can only enjoy referral fee rebates for trades with standard trading fee charges.
Quarterly evaluation: Huobi will assess channel partners on a quarterly basis to revalidate and/or adjust their qualification level as per requirements above. Basic tier Level 1 channel partners who fail to meet qualification targets will be reverted back to standard referral rates and duration (with no impact to fee rebates from past referees before level adjustment).
Upper Rebate Cap (Upper Limit): Spot trading referral fee rebates received from each referee will be subject to an aggregate upper limit cap of 5000USDT across USDT, Point Card (1:1), and HT (conversion based on current market value) payment modes. Once the rebate cap is reached, HT and Point Card trading fee rebates from subsequent referee trades will terminate, whilst USDT referral fee rebates based on the standard 0.2% trading fee rate will persist till the end of the referral period. Referees are free to select their own trading fee payment mode.
Risk management: Channel partners who fail to comply with Huobi's risk management guidelines may risk losing their referral fee rebate commission altogether, as well as deterred from sending future invites. Such non-compliant referral trading volume will not contribute to the channel partner's quarterly evaluation trading volume metrics.
Computation Schedule: Rebate computation will take place the next day.
Terms & Conditions:
Corporations and individuals must apply using the 【sign-up】 form above. Applicants will be notified by email of the results of their application within three(3)working days.

(Click here for Chinese sign-up form)

Channel partners should market Huobi on their channel network regularly. Huobi will review the performance of channel partners on a quarterly basis. Huobi will downgrade or terminate the partnership should the partner fail to meet minimum new registration and trading volume targets.
Partners need to abide by Huobi branding guidelines, and notify Huobi Channel Partnership team well ahead of time of any planned marketing campaign using the Huobi brand. Provision of such notice does not mean that Huobi will endorse or take responsibility for the campaign.
Channel partners will need to abide with promotion wording restriction guidelines, and avoid spreading fake news that may negatively impact market prices.
First-time violators will be given a warning. Subsequent violations could lead to a termination of the partnership.
This program may not be available in restricted regions and countries.
The rules and regulations of the promotion shall be subject to Huobi's final interpretative decision and are subject to Huobi's official announcement update.
Enjoy your trading!
Huobi Global
February 5, 2020