Dear Valued Users,
Huobi Futures will adjust the position limits on the following assets at 10:00 am on May 27, 2021 (UTC). Please refer to the adjustment below prior to trading.
1. Coin-margined Futures:
2. Coin-margined Swaps: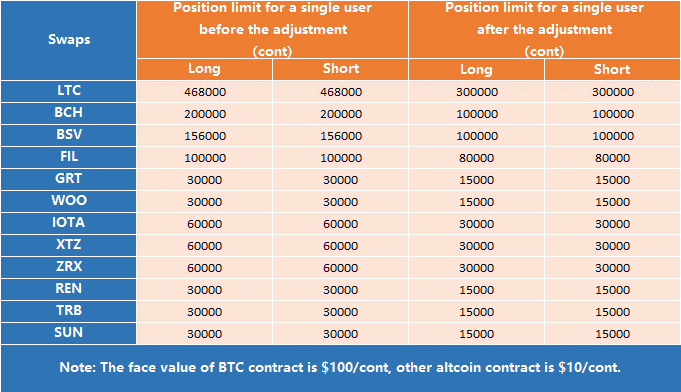 Risk reminder: Digital asset derivatives are innovative investment products with significant price fluctuations. Trading digital asset derivatives carries a high level of risk. Please judge your investment ability rationally and make your decisions prudently; Huobi Futures does not take responsibility for any trading behaviors resulting in direct or indirect losses. Huobi Futures reserves the right to modify, revise or cancel the announcement at any time without prior notice.
Thank you for your support!
Huobi Futures
May 27, 2021
Download APP: Click here to download for iOS or Android
Find us through:
Weibo: https://weibo.com/u/7434651110
Twitter: https://twitter.com/HuobiGlobal
Facebook: https://www.facebook.com/huobiglobalofficial/
Instagram: https://www.instagram.com/huobiglobalofficial/
Reddit: https://www.reddit.com/r/HuobiGlobal/
Medium: https://huobiglobal.medium.com/
Telegram:
https://t.me/huobiglobalofficial